Clear Polycarbonate Corner Angles and Channels Now Available From Stock
Petro announces the availability of six new clear polycarbonate profiles – three channel profiles ranging in size from 1/8″ to 3/8″ and three corner angles in 1/2″ to 1-½" sizes. All six items can be ordered from stock in 2, 4 and 6 foot lengths. These profiles are produced from UV resistant grade polycarbonate resins providing clarity, impact resistance and ease of fabrication. All parts are .050″ thick.
Our corner angles are perfect for protecting walls as well as any other areas where impact and abrasion resistance is required. Our clear channels are great for applications where edge protection is desired while allowing protected material to show through.
As with any stock product from PETRO, custom lengths and specialty colors can be provided to meet specific application requirements.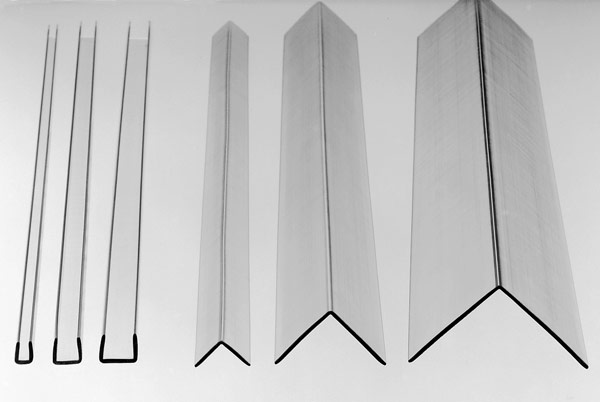 CORNER ANGLES
CHANNELS
Part No.
Size (Inches)
Length (Feet)
Part No.
Size (Inches)
Length (Feet)
J-830
1/2
2
J-833
1/8
2
J-830-4
1/2
4
J-833-4
1/8
4
J-830-6
1/2
6
J-833-6
1/8
6
J-831
1
2
J-834
1/4
2
J-831-4
1
4
J-834-4
1/4
4
J-831-6
1
6
J-834-6
1/4
6
J-832
1-1/2
2
J-835
3/8
2
J-832-4
1-1/2
4
J-835-4
3/8
4
J-832-6
1-1/2
6
J-835-6
3/8
6