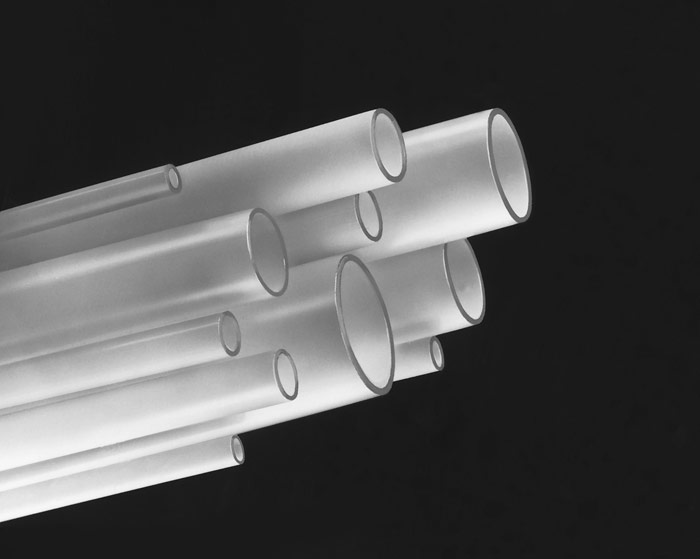 Available From Stock in 11 Sizes
SOLEF® PVDF Tubing is the engineering grade thermoplastics material of choice for applications requiring high purity and exceptional corrosion resistance properties.
A stock tubing extruded from the highest quality Solef 460 Polyvinylidene Fluoride resin, an extremely versatile engineering fluoropolymer with a unique balance of physical, chemical and electrical properties.
Featured Properties of SOLEF:
Temperature range from -40°F to 260°F
High purity – FDA Approved resin
Resistant to most chemicals and solvents
High abrasion resistance
Mechanical strength and toughness
High dielectric strength
Resistance to ultraviolet and nuclear radiation
Resistant to weathering and fungi
Natural translucent color
SOLEF thermoplastic fluoropolymer is strong and tough as exhibited by its tensile and impact strength. Compared to many thermoplastics, SOLEF has excellent resistance to creep and fatigue. It is non-toxic, tasteless and odorless.
SOLEF ® is a registered trademark of Solvay Specialty Polymers, LLC.
Stock Sizes – 50 Ft. Coil Lengths
Part No.
ID (Inches)
OD (Inches)
Wall (Inches)
Max Pressure PSI@70°F
HK-01
1/8
1/4
1/16
350
HK-02
.170
1/4
.40
180
HK-03
3/16
5/16
1/16
290
HK-04
1/4
3/8
1/16
240
HK-05
5/16
7/16
1/16
200
HK-06
3/8
1/2
1/16
180
HK-07
1/2
5/8
1/16
145
HK-08
5/8
3/4
1/16
120
HK-09
3/4
7/8
1/16
100
HK-10
7/8
1
1/16
90
HK-11
1
1.25
1/8
140
General Properties of SOLEF® 460 Grade Polymer
Method
Units
Typical Values or Ranges

Physical Properties
Melting Point Range
ASTM D3418
°F
320
°C
160
Specific Gravity
1.75-1.77
Refractive Index
ASTM D542
°25D
1.42
Water Absorption
ASTM D570
%
0.04
Specific Gravity
1.75-1.77
Mechanical Properties
Tensile Strength at Yield
ASTM D638
psi
6000-6500
Tensile Strength at Break
ASTM D638
psi
5000-7500
Elongation at Yield
ASTM D638
%
8-15
Elongation at Break
ASTM D638
%
50-250
Tensile Modulus
ASTM D882
psi
150-200X103
Flexural Modulus
ASTM D790
psi
150-260X103
Impact Strength at room temp.
ASTM D256
Unnotched
ft-lb/in%
15-40
Notched
ft-lb/in
2-4
Hardness
ASTM D2240
Shore D
75-80
Thermal Properties
Limiting Oxygen Index
ASTM D2863
%
43
Vertical Burn
UL Bulletin 94
V-O